PF12 pH Electrode Holder
Rugged pH probe adapter
Extension of optek sensor bodies for inline pH measurement in industrial installations of various applications. Commonly available Ø 12mm & 120 mm length pH probes can be used and are positioned at an optimum angle into the process stream.
Used For
pH measurement adapter for inline pH electrodes
pH monitoring

for general quality control
of CIP processes
of Pre / Post column monitoring, Filtration

pH measurement range defined by individual pH electrode specifications
The optek PF12 pH electrode adapter is designed to mount pH electrodes at the optimal angle of 12 degrees into the measuring cell. This allows the sensor to use gel and electrolyte filled pH electrodes and improves the functionality and life span of the pH electrodes.
The PF12 adapter completely holds the pH electrode and provides optimum safety of pH glass sensors in industrial environment. A blind stopper can be used to close the adapter for cleaning or sensor replacement.
---
Optimum positioning of gel and liquid filled pH probes in the sample stream
Maintain pH probe performance by keeping the sensor in an optimal position
---
Sanitary integration of pH probes into process
easy cleanability
---
option to combine pH and conductivity probes in one armature
Minimized hold up volume and space requirements
PF12
Sensor Body
Material

Stainless steel 1.4435 (SS 316L), dF < 1 %, BN2

Material (Wetted)

Stainless steel 1.4435 (SS 316L), dF < 1%, BN2
Hastelloy 2.4602 Hastelloy C22

Surface

electro polished (Ra < 0.4 μm)

Line size

1/8 in. to 6 in. (DN 6 to DN 150), ... others on request

Solution ground

female SA483 for solution ground plug

Electrode types

suitable for wide variety of electrodes with dimensions Ø 12 x 120 mm, PG 13.5 thread

Process pressure

6 bar (87 psi)

Temperature Ratings
Process temperature

-10 °C to +135 °C, (14 °F to 275 °F)

Pressure and temperature ratings specified herein may be subject to limitations - see instruction manual. The appropriate choice of material for all wetted parts is the sole responsibility of the user. Data given are subject to changes without prior notice.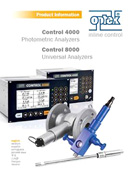 C4000 - C8000 Product Information
Visit our documentation page to view a complete list of translated documents.