Leak Detection / Condensate / Carryover Monitoring
Leak Detection
Leak detection is an important consideration for many chemical processing plants. Companies in all industries demand the measurement of leaked hydrocarbons, aromatics and chemicals in the ppm range, with each leaked medium requiring a different detection technique. optek's ability to customize solutions based on the application parameters provide the plant with a reliable, real-time monitoring system in almost any process condition.
optek Products used in Leak Detection
Typical Measuring Ranges:
0 - 10 ppm (Oil in Water)
0 - 100 APHA/Hazen (Color)
0 - 100 mg/L (Aromate UV)
Heat Exchanger Monitoring
Heat exchanger monitoring is a very common application, where water is typically on the low pressure side and the leaking medium (e.g.,hydrocarbons) is on the high pressure side. In the case where the leaking medium is immiscible in water, the water can be monitored by optek's TF16-N scattered light turbidity sensor, which can detect oils, amines, particles, hydrocarbons and even gas bubbles down to the single ppm range.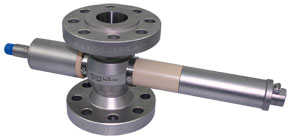 optek TF16-EX-HT-N Scattered Light Dual Channel Turbidity Sensor
In the case where the leaking medium is miscible in water and results in some type of chemical contamination or a color change, the water can be monitored with an AF26 dual beam absorption sensor. The AF26 can detect virtually any impurities causing color change and can detect many chemicals down to the ppm range. If aromatics are the leaking medium, the AF46 can monitor down to low ppm ranges. The AF46 is used where the light absorbing leaked medium has absorbance in the ultra violet (UV) range of the light spectrum.
The C4000 converter receives the signals from the sensors, correlates them to a concentration and then generates the output signals to control/monitor the process. In the case where a natural water source is used in a single pass heat exchanger, where it may contain some level of turbidity (e.g.,oil drops) or color, the C4000 can monitor sensors at the inlet and outlet of the exchanger and report a differential measurement. In addition to offering a local display, the C4000 can send relay alarms to even better monitor the process – all in real-time. Options for Profibus PA® or FOUNDATION™ Fieldbus systems are also available.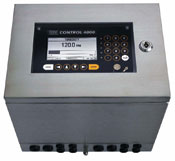 optek Stainless Steel Housing with C4000 Converter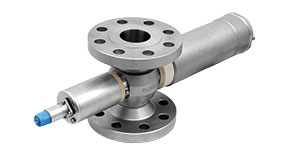 optek AF46-EX-HT-VB Dual Channel UV Absorption Sensor
optek sensors and converters can be installed in any electrical area class, in pressures up to 100 bar and permanent process temperatures of 240°C (464°F). The sensors can be installed in line sizes up to 6" and are available in many process connections and material types. optek's ability to customize a system to your exact process conditions offers companies the opportunity to reduce operating costs, improve product quality and minimize process downtime.
Boiler Condensate and Carryover Monitoring
Much like the low pressure sides of heat exchangers, boiler condensate, cooling water and process carryover needs to be monitored to prevent contamination of the plant's boiler system or other manufacturing processes. Continuous inline monitoring enables reusing condensate or reboiler to conserve energy, water and chemical usage.
Similar to heat exchanger monitoring, the contaminating medium requires different sensors to be used to monitor the condensate. Boiler condensate monitoring is a common application where the high temperature version of optek sensors are required, as high pressures can leave the condensate or process stream at well over 100°C (212°F).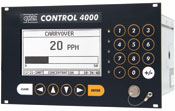 optek C4000 Photometric Converter
Leak Detection / Condensate / Carryover Monitoring
Get in Touch with optek
If you have any further questions or queries please do not hesitate to get in touch.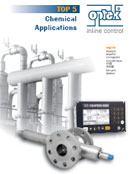 Top 5 Chemical Applications
Visit our documentation page to view a complete list of translated documents.