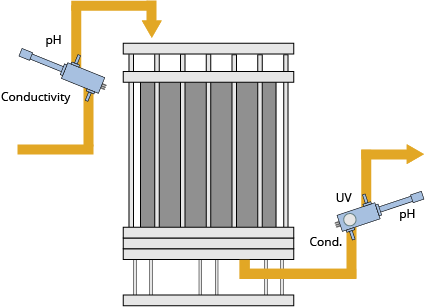 Single-Use Technology
Chromatography and Ultrafiltration Monitoring
The Single Use Cell (S.U.C.) is designed to optimize separation, purification, concentration and formulation processes in disposable chromatography and ultrafiltration systems. In applications where hazardous materials such as cytotoxic drugs or other potent biological materials are being processed, optek Single Use Cells offer additional protection for operators who are isolated from these hazards.
optek Products used in Single-Use Technology
Having the same performance characteristics as standard reusable systems, but with a reduced hold- up volume, the S.U.C. is easy to install and is fully compatible with the optek range of UV, NIR and color absorption sensors. Additionally, NIST-traceable calibration accessories provide absolute measurement confidence.
S.U.C. Benefits
The optek S.U.C. offers several significant advantages over the standard reusable stainless steel systems:
Reduced hold- up volume
Lowered risk of cross contamination
Reduced need for cleaning and associated cleaning validation
Improved productivity due to simpler exchange proceedures and low down time between products/batches
Up to four measurements in one S.U.C.
Hose Barb and clamp connections, line sizes from 0.25 in. to 1 in. available on all S.U.C. models
S.U.C. Design
The versatile design of the optek S.U.C. has been developed to meet the specific demands of biopharmaceutical manufacturing. Depending on the S.U.C. design chosen a maximum of four measurements are possible with one S.U.C. (conductivity, UV, pH and temperature). The C8000 universal converter is used to receive and transmit data for both standard reusable and single-use systems, increasing the flexibility at any facility.
S.U.C. Types
Conductivity
pH
Optical
Hold-up Volume
Example
SUC21
-
-
20 ml
SUC23
-
20 ml
SUC24
-
-

OPL 1 mm: 9.2 ml
OPL 2.5 mm: 9.7 ml
OPL 10 mm: 12 ml
OPL 20 mm: 15 ml

SUC25
-

OPL 1 mm: 22 ml
OPL 2.5 mm: 23 ml
OPL 10 mm: 25 ml
OPL 20 mm: 28 ml

SUC27

OPL 1 mm: 22 ml
OPL 2.5 mm: 23 ml
OPL 10 mm: 25 ml
OPL 20 mm: 28 ml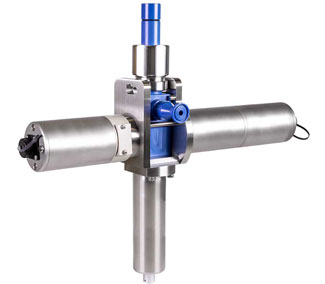 Fully Assembled optek SUC27 for UV, Conductivity, pH and Temperature Measurements.
Single-Use Technology
Get in Touch with optek
If you have any further questions or queries please do not hesitate to get in touch.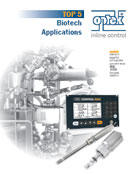 Top 5 Biotech Applications
Visit our documentation page to view a complete list of translated documents.