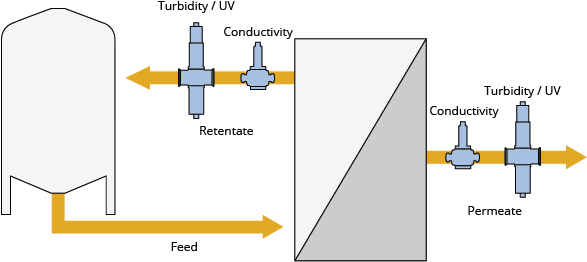 Ultrafiltration
Identification of trace contaminants in low ppm ranges and detection of filter breakthrough in real-time ensures process consistency, while eliminating sample collection for laboratory analysis.
In a typical UF process, two installation points are usually considered.
Permeate
Using an optek AF45 UV sensor on the permeate stream allows the user to ensure filter integrity, increase throughput and minimize product losses.
optek Products used in Ultrafiltration
Retentate
An optek AF45 or AF46 UV sensor is an ideal way to monitor the concentration of proteins during the filtration process. The sensor is installed in the return line to the recirculation tank. Real-time concentration readings up to high OD levels can be measured and trended without violating the integrity of the system and without wasting product through sampling.
Conductivity
optek ACF60 conductivity sensors can be installed in the permeate or retentate line to ensure proper process control.
These conductivity sensors feature a superior six-electrode, four-pole design. The arrangement of the four current electrodes around the two potential electrodes results in a reliable and precise measurement of a broad conductivity range.
This unique design also provides greatly reduced sensitivity to sensor fouling and polarization. Designed for ultra-sterility, the six electrodes are sealed in the FDA/USP Class VI compliant PEEK sensor tip without the use of O-Rings or epoxies.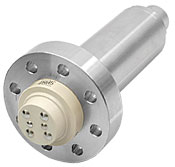 Six-Electrode Four-Pole Conductivity Sensor
Converters C4000/C8000
optek converters allow the operation of multiple sensors.
The C4000 is typically used if only optical instruments are required and is able to operate two turbidity or UV measurements for permeate and retentate control simultaneously.
The C8000 is installed if turbidity or UV sensors are required along with electro-chemical measurements such as pH and/or conductivity.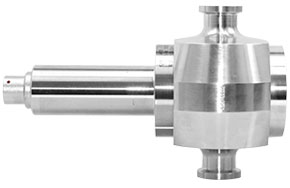 optek ACF60 Conductivity Sensor mounted on a Biotech Armature
Ultrafiltration
Get in Touch with optek
If you have any further questions or queries please do not hesitate to get in touch.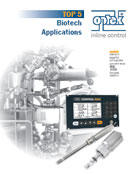 Top 5 Biotech Applications
Visit our documentation page to view a complete list of translated documents.