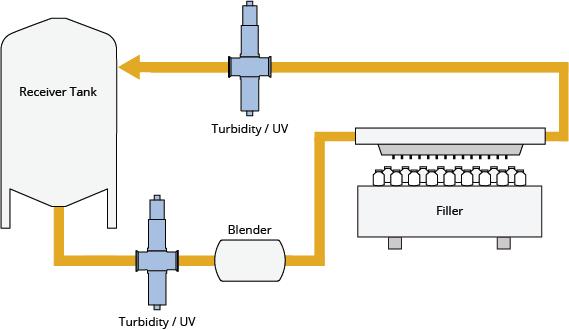 Formulation and Filling
Formulation and filling areas can see inconsistencies due to mixers, tank levels, pump cycling, pH and temperature variations, and even lab variances. optek sensors help operators and quality areas get a live view of inconsistencies and either make changes to help meet acceptance windows or stop a non-conforming product lot from going forward. This will help in avoiding additional costs with process knowledge to prevent lot failures.
optek Products used in Formulation and Filling
Installing optek sensors inline help to improve consistency, conformity and productivity. An optek AF16-VB-N monitors the product concentration of suspensions to ensure stable levels during the filling process. Sensors are either installed directly in tanks or in feed or outlet process streams, as well as at the filling stations for verification.
Depending on the product, optek inline sensors can monitor for turbidity, color, dilution target, or even opalescence in biologics.
Providing quality with a live data record for the entire batch leads to optimal QA/QC for documentation and process knowledge.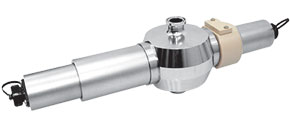 optek AF16-VB-N Single Channel Absorption Sensor with Calibration Adapter
Turbidity
Many products have a base turbidity that relates to the product concentration. optek turbidity sensors have a wide dynamic range and accurately measure low to high concentration ranges.
Dilutions
Certain products that contain turbidity will be diluted to attain the proper target dosage. optek inline sensors monitor the transition and verify the target dosage is being met before going to the filling stations.
Opalescence / Haze
Some biologics that are stored in a vessel prior to going to filling stations acquire a phenomenon called "opalescence". This usually is a non-desired effect caused by temperature drift. It is mostly aesthetic in nature and usually does not affect potency of the drug. However, certain companies will disqualify production lots due to this undesired effect. optek UV or scattered light sensors are able to monitor opalescence occurring on a small scale. This alerts the operators immediately, preventing product losses while ensuring product quality.
Formulation and Filling
Get in Touch with optek
If you have any further questions or queries please do not hesitate to get in touch.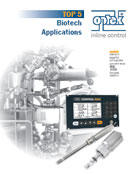 Top 5 Biotech Applications
Visit our documentation page to view a complete list of translated documents.