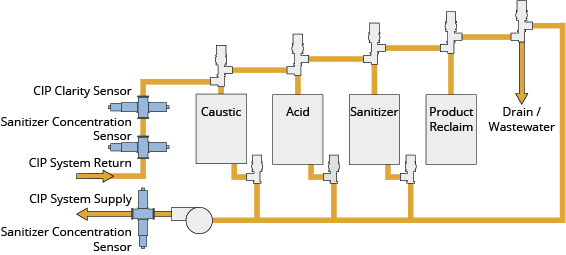 Identification: Clean-In-Place (CIP)
Clean-In-Place (CIP)
Many manufacturing facilities require (CIP) systems to clean tanks, pumps, valves, filters, heat exchange units as well as the process piping. The use of CIP increases plant efficiency, improves safety and ensures product quality. However, achieving these benefits requires monitoring and control of the CIP process to optimize heat, cleaning agents and water consumption.
optek Products used in Identification (CIP)
CIP Optimization
Precise process interface detection with a single channel NIR absorption based photometer (optek AF16-N or AS16-N) is typically installed at the CIP return points where it is beneficial to measure the exact interface on rinse water. Inline photometers can also be used to monitor the sanitizer concentration to control the CIP process, for validation routines, and in some cases, to monitor the residual after cleaning.
Sanitizer Concentration
Chemical concentration has always been a difficult measurement using traditional conductivity sensors. Changes in pH, temperature, or other unexpected compounds can all affect conductivity devises. To compensate for these issues, plant operators often overdose chemicals to ensure adequate sterilization, then extend line flushes to ensure it is removed.
Sanitizer Optimization
By installing an optek UV / VIS or NIR absorption sensor on the feed line, exact concentrations are monitored, optimizing performance, while reducing chemical usage. These sensors are also compensated to eliminate any influence from turbidity or the presence of other compounds. In addition, with immediate response times, sanitizer and water usage is greatly reduced.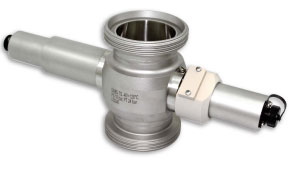 optek AF16-VB-N Single Channel Absorption Sensor with Calibration Option
CIP Application Benefits:
Reduced water usage
Reduced sanitizer consumption
Reduced wastewater costs
Reduced cycle times
Reduced operating costs
Increase in available process time
Documented sanitizer concentration
Rapid return on investment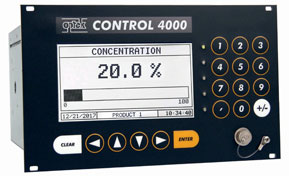 optek C4000 Sanitizer Concentration
Identification: Clean-In-Place (CIP)
Get in Touch with optek
If you have any further questions or queries please do not hesitate to get in touch.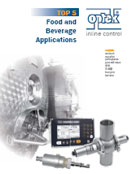 Top 5 Food and Beverage Applications
Visit our documentation page to view a complete list of translated documents.