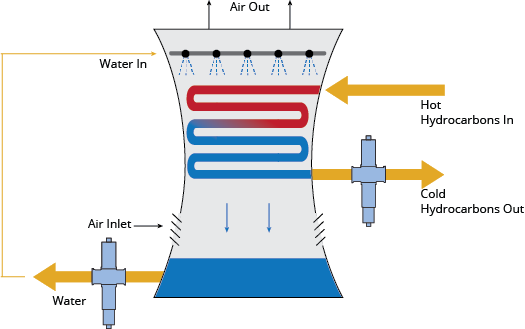 Condensate and Cooling Water Monitoring
Heat Exchanger Leak Detection
Heat exchanger leak detection is an important measurement for many processors. Companies in all industries increasingly demand the measurement of oils, aromatics, or undissolved hydrocarbons in the ppm range. For this purpose, optek inline photometers have been proven worldwide as a reliable solution.
optek Products used in Condensate and Cooling Water Monitoring
Trace oil in water detection provides advanced warning of oil contamination in water or condensate streams. optek TF16-N scattered light sensors can easily detect trace contamination in heat exchanger cooling, heating and reclaim lines (e.g., preventing oil build up on the heat exchanger plates, resulting in a less efficient cooling process or inefficient heat transfer in the heating process, increasing energy costs).
Typical Measuring Ranges:
0 - 50 ppm - Oil in Water
0 - 100 ppm - Non Dissolved Hydrocarbons in Water
By using optek photometers in heat exchanger cooling/heating lines, a pinhole leak can be detected and repairs can be made before an expensive breakdown occurs. Also, operating costs are reduced because heat exchanger maintenance can be scheduled to minimize process downtime.
Condensate
optek photometers can monitor condensate streams to determine if they are free from contaminants, allowing it to be reused for boiler feed or other processes. This has proven to be an extremely beneficial process improvement, reducing water usage, treatment chemicals, and wastewater costs.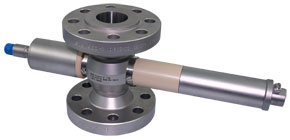 optek TF16-EX-HT-N Scattered Light Dual Channel Turbidity Sensor
Carryover
There is a chance of carryover in any area where water is used to heat or cool the process stream. An optek inline photometer is an excellent tool for immediate detection of process contaminants.
In applications where the process stream contains undissolved oil or solids, an optek TF16-N scattered light turbidimeter can detect the total contamination present. By measuring in the Near Infrared (NIR) the measurement will not be affected by color or color changes.
Detecting contamination in other ways, such as UV or color (yellowness) may also be advantageous for dissolved/non dissolved hydrocarbons, oils or aromatics. This is especially true for processors who are reusing condensate or reboiler to conserve energy, water and chemical usage.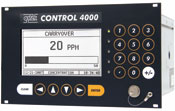 optek C4000 Photometric Converter
Condensate and Cooling Water Monitoring
Get in Touch with optek
If you have any further questions or queries please do not hesitate to get in touch.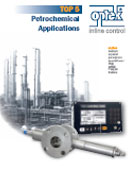 Top 5 Petrochemical Applications
Visit our documentation page to view a complete list of translated documents.