Overview
The ASD12-N and ASD25-N absorption sensors are designed for use in pilot and production scale fermenters or bioreactors to precisely measure the growth of microbial or cell cultures as a function of NIR absorption.
NIR-Absorption
A precisely defined and constant LED light beam penetrates the process medium. ASD12-N and ASD25-N use light from 840 nm to 910 nm (NIR). The attenuation of the light intensity, caused by absorption by dissolved substances and undissolved material is detected by a hermetically sealed photodiode.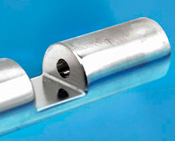 ASD12-N
The ASD12-N probe is specifically engineered for use in laboratory fermenters. The seal-less sapphire window design eliminates crevices and gaps to assure the highest level of sterility. All wetted parts are electro-polished steel. The ASD12-N is autoclavable and mounts conveniently through any headplate with a PG13.5 threaded port. The ASD12-N is available in three different insertion depths with either 1, 5 or 10 mm OPLs (optical path length = distance between the windows). Shorter optical path lengths are typically used for dense cell cultures such as bacterial and yeast cultures. Longer OPLs are used for less dense cell cultures e.g., mammalian cells and dissolution / precipitation / crystallization reactions.
Technical Data
ASD12-N
Schematic

OPL
Sapphire windows
Detector
Daylight filter
LED light source

No window gaskets used

Measurement
Measurement principle

1- Channel Absorption of light

Measurement wavelength(s)

840 - 910 nm

Detector(s)

1 silicon photodiode (hermetically sealed)

Measuring Range

any measuring range between:

Optical path length

1, 5 or 10 mm others on request

Calibration

CU (concentration units) application specific calibration

Light source

Hybrid LED (hermetically sealed), 5.4 V DC, 100 mA

typical life span: approx 10 years

Protection

IP68

Process Adaption
Material

wetted parts: stainless steel 1.4435 (SS 316 L) dF < 1 %, BN2

surface: electro-polished Ra < 0,4 μm

Port connection

Fermenter head plates

diameter:12 mm

thread:PG 13.5

Port gasket

O-ring 11.00 x 3.00 mm

EPDM (FDA / USP Class VI)

Insertion depth

110 mm + OPL

215 mm + OPL

315 mm + OPL

others on request

Process pressure

pressure-free

(+/- 0.5 bar) (+/- 7.25 psi)

Windows

Sapphire (seal-less)

Installation accessories

Adapter PG 13.5 Variable depth

Adapter M 26 x 1 - PG 13.5

Temperature Ratings
Process temperature

permanent:5 - 50°C (41 - 122°F)

Ambient temperature

operation:0 - 40 °C (32 - 104 °F)

transport:-20 - 70 °C ( -4 - 158 °F)

Sterilization conditions

Sterilization must be performed outside the process and the ASD must be disconnected from the power source

(autoclaving possible without cable)

max. pressure: 4 bar (58 psi)

max. temperature: 135 °C (275 °F) (max. 60 min./day)

Pressure and temperature ratings specified herein may be subject to limitations - see instruction manual. The appropriate choice of material for all wetted parts is the sole responsibility of the user. Data given are subject to changes without prior notice.