Overview
Model AF56-N is a precision turbidity detector and the model AF56-F is a precision color detector for use in various industries. The sensors are designed for inline operation and provide accurate concentration measurements with remarkable repeatability, linearity and resolution.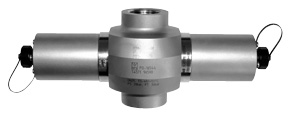 Modular construction of the sensors offers maximum flexibility in adapting to various process needs. Options include electro-polished sensor bodies, chemical resistant materials (sapphire windows, titanium, Hastelloy, etc.) and high pressure versions.
A special tungsten lamp produces a constant light beam that passes through the process medium. The attenuation of the light intensity, caused by absorption and/or scattering by dissolved and undissolved substances, is detected by a sealed silicon photodiode.
AF56-N (NIR-Absorption / Turbidity)
The AF56-N uses light from 730 - 970 nm (NIR) to measure solids concentration independent from color or color changes. Depending on the optical path length, measuring ranges from g/l to ppm are possible.
AF56-F (VIS-Absorption/Color)
The AF56-F is used to measure color or color changes at a specific wavelength in the visible range (430 nm). A loss of light as a result of an increase in color depth is precisely detected.
OPL
Special optical windows are made from a single crystal sapphire, providing superior resistance to all abrasive and corrosive media. With the appropriate choice of sensor bodies and windows in various lengths, the optimum OPL (optical path length = distance between the windows) can be achieved to meet the measurement requirements, i.e., low/high measuring ranges at highest resolution.
Technical Data
AF56
Schematic

Sensor Body
Windows
Filter
Measurement detector
Optics module
Lamp module

Measurement
Measurement principle

1- Channel Absorption of light

Measurement wavelength(s)

AF56-N:730 nm - 970 nm

AF56-F:430 nm

Detector(s)

1 silicon photodiode (hermetically sealed)

Measuring Range

any measuring range between

AF56-N:0 - 0.5 to 4 CU

AF56-F:0 - 0.5 to 2 CU

Optical path length

1 - 200mm

Calibration

Abs.: CU (concentration units) application specific calibration

Light source

special incandescent tungsten lamp 5.0 V DC, 970 mA

typical life span: 3 to 5 years (25,000 to 40,000 hours)

Resolution

< ± 0.5 % of respective measuring range

Repeatability

< ± 1.0 % of respective measuring range

Linearity

< ± 2 % of respective measuring range (specific to application)

Protection

all optical parts have an IP rating of IP65 or higher

Sensor Body
Material

Stainless steel 1.4435 (SS 316L), 1.4539, 1.4571 (SS 316Ti), 1.4462, Titanium 3.7035 (Grade 2), Hastelloy 2.4602 (C22), Plastic TFM4215, PVC, ... others on request

Line size

1/8 in. to 6 in. (DN 6 to DN 150), ... others on request

Process connection

Flanges (ASME, DIN, JIS), Clamps (TC, ISO, DIN), Female Threads (NPT, DIN), Sanitary Threads (DIN 11851), Tube Ends (DIN, ISO, OD), Varivent, ... others on request

Process pressure

10 mbar to 100 bar (0.15 psi to 1450 psi) - higher on request depending on process connection, materials and design

Windows

1-Pyrex®, 2-Sapphire, 3-Sapphire Biotech

Window gaskets

Silicone (FDA), Viton® (FDA), EPDM (FDA / USP Class VI), Kalrez® 4079, ... others on request

Temperature Ratings
Process temperature

permanent:0 – 100 °C (32 – 212 °F)

peak (15 min/day):0 – 120 °C (32 – 248 °F)

Process Temperature
OPTION SF

permanent:0 – 60 °C (32 – 140 °F)

peak (15 min/day):0 – 80 °C (32 – 176 °F)

Ambient temperature

operation:0 - 40 °C (32 - 104 °F)

transport:-20 - 70 °C ( -4 - 158 °F)

Pressure and temperature ratings specified herein may be subject to limitations - see instruction manual. The appropriate choice of material for all wetted parts is the sole responsibility of the user. Data given are subject to changes without prior notice.