Filtration
Typical Applications:
Edible Oil:

Filtering of nickel catalyst for reuse, (turbidity measurement)

Sugar Refining:

Monitoring of the filtrate stream for turbidity

Wine:

Monitoring of filtration and stabilization

Soy Sauce:
Fruit Juice Concentrate:

Monitoring filter breakthrough and clarity
Filtration Control 11°/90°
The optek Haze Control / DTF16 relies on a dual angle scattered light measurement for precise quality control during final filtration independent of color and color changes. Using this sensor downstream of the filter detects filter breakthroughs, preventing "out of spec" product while ensuring product quality and clarity at each filtration step.
Factory Calibration
Each optek DTF16 is factory calibrated to FTU standards which correlate to EBC, ppm (DE), ASBC or others.
Feed Monitoring
Using an optek AS16-N or AF16-N, the turbidity in the feed line can be monitored, allowing precise feed control while preventing filter clogging or blinding. This additional sensor can be connected to your Haze Control / DTF16 system without the need for an additional converter.
Filter Backwash Optimization
The optek AS16-N or AF16-N used for feed monitoring can also be used to optimize your filter backwash process by measuring the turbidity in the water, saving time, energy and conserving water usage.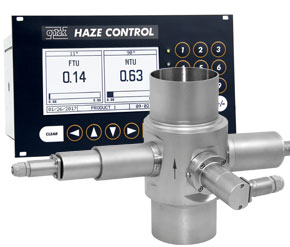 Filter Aid Dosage
Dosage of filter aids like diatomaceous earth (DE) can be controlled with optek absorption or scattered light sensors. Optimizing filter aid usage reduces costs and ensures consistent product quality.
Filter Setup Monitor
Using the reference channel allows measurements at higher turbidity levels to monitor and control the filter pre-coat cycle.