Final Beer Filtration
Line and Lab: One optical design
Two of optek newest products are specifically designed for the beverage industry. The optek DT9011 is an "In the Bottle" bench top turbidimeter. The process sensor DTF16 is intended as a true real-time QA/QC turbidity analyzer that can eliminate lab assessments all together. Both products measure at both a forward scatter angle of 11° as well as the side scatter method of 90°.
optek Products used in Final Beer Filtration
Both results are displayed and recorded simultaneously. The measurement signals of the laboratory system match the optek DTF16 series inline turbidimeters, allowing validation of process readings to the lab. The 90° angle provides the colloidal haze measurement for clarity assessment. Either angle can be read in EBC or FTU. The 11° angle can be read in ppm or ASBC and at the 90° angle Helms or NTU units are also possible. Measuring at both angles provides lab personnel with considerably more data when analyzing finished beer turbidity.
The 11° forward angle is very sensitive to particle size so it is an indicator of abnormal particulate such as Kieselguhr and yeast. In addition it correlates very well to actual non-dissolved content while the 90° side-scatter angle provides sensitivity to colloids and haze. Using the 11° forward scatter angle is more specific than 25°and eliminates false high readings due to haze, because it is nearly independant of colloidal turbidity. Any filtration issues, whether recipe, process or equipment related can now be diagnosed much easier by knowing the nature of the turbidity constituents.
Using the optek DT9011 the sample is placed in a water bath and measured 250 times during one rotation, followed by advanced data analysis. This eliminates the effects of bottle color and shape, as well as scratches, seams and other imperfections in the sample bottle.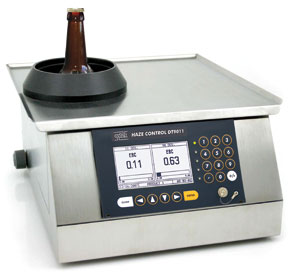 optek Haze Control DT9011 Laboratory Turbidimeter
Final Beer Filtration
Get in Touch with optek
If you have any further questions or queries please do not hesitate to get in touch.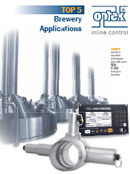 Top 5 Brewery Applications
Visit our documentation page to view a complete list of translated documents.